What the fuck was that?
Anyone familiar with my reviews knows that I am really harsh on female main characters. I have high and specific standards. They may disappear sometimes and I'll somehow enjoy a TSTL heroine, but usually I'm incredibly harsh. Knowing that about me, knowing that I will quickly DNF a book because the female MC is annoying, TSTL, horrible, bitchy, whatever... please understand how serious I am when I say this girl, Bronte, is one of the worst characters I've ever read. I hope she stubs her pinkie toe on a door frame every hour for the rest of her fucking life.
She was so bad that I couldn't stop reading. I just
had
to see what horrible decision she'd make next. Every single time she had to make a decision, she chose the wrong one. But not just wrong,
really
wrong. Let's review:
- She falls head over heels for Mr. Texas and has a long distance relationship with him. She decides "Hey, I'm gonna move in with this guy." He didn't ask her to move to Chicago, she just decided that he must want her to because he said those magical words: "I love you"... He's not even enthusiastic about it and
she can tell
. But whatever, he said "I love you" that one time, so off to Chicago she goes. Whoops! Guess uprooting her entire life because somebody said three words wasn't the smartest idea! Oh well, time to swear off relationships forever because all men should be painted with the same brush and if one fucked you over, they all will. Amiright?
- Demanding a no-strings-attached relationship when she's a hopeless romantic at heart. She reads a ton of romance novels. She has to have seen this plot before and knows how it ends. She believes in love, not fuck buddies. So why the hell would she propose this?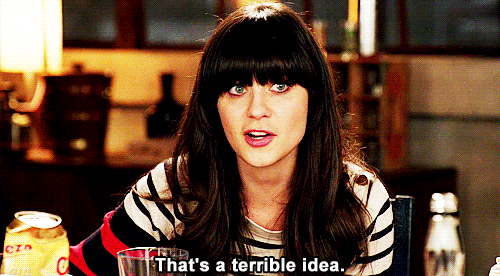 - 100% brutal honesty. She says she's gonna stick to it and demands it of Max as well. But she's not honest, not even with herself. She'll recognize her dishonesty to herself and then actively brush it away and not think about it... because that's how you deal with things. Duh.
- Time for the no-strings relationship to be over and she tries to start a fight. They've fallen in love with each other, but she's been burned once before and she just
knows
Max doesn't want a real relationship with her. She doesn't need to ask, she knows. So she wants to fight and drive Max away instead of attempt a relationship. Sure, that's totally mature of you.
- Max begs her to come with him. He professes his feelings, his love. He says he needs her with him and he'll do anything for her. Total gooey moment where you can't help but adore him. And Bronte ruins it. She refuses to go. She hurts him. She lies to him and herself. She's a coward and idiot. It is, without a doubt, 100% her fault that Max leaves without her. Does that stop her from blaming him?
Hell no!
He is the one that left (due to a family emergency), so that means he left her. He abandoned her. She's the victim here, can't you see?!
- Now she has to explain to a friend why she's so miserable when she supposedly doesn't have any real feelings for Max and why she's not chasing after him or trying to fix things. Bring out the lie detector, because she flat out lies about why they're not together anymore. But... but he
lied
to her by not telling her he was a duke! Even though she didn't find out about that until
after he left
. So that is a bold-faced lie - he left because somebody was dying and he left without her because she pussied out and refused to go, preferring to cling to her denial, lies, and self-loathing.
- About that self-loathing... this girl fucking
hates
herself. She only finds value in herself when she's gotten her hair professionally styled and is kitted out in Valentino. Then she's at least attractive, but otherwise has no other redeeming qualities, isn't worthy of love, doesn't deserve to be in a relationship, can't measure up to whoever. She has a shit load of daddy-issues and no self-confidence... how she doesn't end up with a wife-beater is completely beyond me.
- She has fantasies of being whisked away by Prince Charming, but when the time actually comes, she fights it with everything she's got. She freaks out about even
knowing
a duke - this girl cannot handle being married to one. "But... but you're royalty!"; "Oh god, what will everyone think of the low brow American?"; "Oh god, we haven't talked about kids!"; "Oh god, people will take pictures of me!" She worries about
every
little thing, none of which are actually happening in the present... no, she panics about every possibility that could
maybe
happen in the future. Dear god, does this girl have confidence in anything other than giving PowerPoint presentations?!
- Her mother asks her to read her dead, estranged father's novel, but Bronte has a knee-jerk reaction to anything having to do with her father. Fight, deny, disagree, argue, refuse... no, no. He was an asshole over a decade ago, so she has to be a huge bitch and get into arguments with her mom every. single. time. he's mentioned. It's childish and churlish.
- Max has Bronte pick out an engagement ring and she apparently loves it. But when they go to dinner that night to meet Max's family, she doesn't want to wear it. Heaven forbid she wear her engagement ring to the dinner where they're going to announce their engagement to his family. Are you fucking kidding me? Not only does she not want to wear it, but she starts a huge fucking fight over it. She says wearing the ring is like shoving her and her low brow American-ness in everyone's faces. WHAT? This girl is mentally unstable. She behaves like a manic depressive that refuses to take their medication.
- When they're getting off the phone with each other because Max has to finish an extremely important meeting, she drops the "Oops, I forgot to take my birth control pill" line on him. Worst. timing. ever. You moron. Like "Hey, I might be carrying a royal heir in my belly, but I'll talk to you later, babe! Good luck focusing on your contract meeting!"
- She finds out she
is
pregnant and refuses to call Max to tell him. She uses the horribly lame excuse that it's late in London and he wouldn't want to be woken up to find out he's gonna be a father, right? Surprisingly enough, Max couldn't wait to see her, so he just so happened to have flown across the ocean to find a positive pregnancy test sitting on the bathroom counter and Bronte taking a nap. He wants to know why she didn't tell him immediately. Guess what she does! No, you'll never guess, because it's that fucking horrible... she kicks him out. She needs space. This is all moving too fast. Oh noes! So Max leaves
because she kicks him out
. And then she gets all pissed because
"he left her... again"
. This bitch has selective memory - every time Max leaves it's because she makes him leave and she makes him leave without her.
Good.
You know what? You deserve to be alone, you horrible horrible human being. Dear
GOD
, she was so fucking bad, man! And I just had to keep reading because I really needed to know how she was going to screw everything up before getting her (entirely undeserved) HEA. Not that there is much of a HEA anyway - you never find out if the rest of Max's family warms up to Bronte, or how she deals with being a duchess. She and Max simply run into each other's arms, beg forgiveness, and fuck. The end.
Max was a decent guy - I understood his not wanting to broadcast his royal title, especially after finding out Bronte's royal obsession. I just can't believe he kept coming back to her. She deserved a mental hospital, not the dreamy Duke of Northrop.
And it's not like the rest of the book was anything special. There's so much unnecessary backstory and information on past royalty, it's tedious. Trudge through it if you must, but I can honestly say that this is one of those books that I
would
slap out of your hand if I caught you reading it.